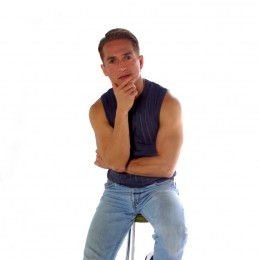 Energetic, passionate, uplifting, moving, entertaining and engaging! That is how one best describes Louie George, the exceptionally talented dancer, singer, actor, choreographer and teacher. From starring in shows such as Funny Girl, Sweet Charity (role of Big Daddy), Miss Saigon, Mame, Sisterella, and the Burt Bacharach Show, to his immensely popular television career on the Mike Walsh Show, Hey Hey It's Saturday, Countdown, the acclaimed Logie Awards, Commonwealth Games, AFI Awards and Good Morning Australia, Louie has gained further regard for his lively choreography for stage and screen, his wonderful singing, and has been one of the most popular dance teachers at the Sydney Dance Company Dance Studios for over a decade.
Born in Manila, Philippines, Louie started his dancing career touring South East Asia as a soloist for various vocal ensembles; upon immigrating to Australia he pursued the development of his dance skills at Bartuccio Dance Centre, Melbourne. He became prolific in the commercial dance industry and worked with Australian leading choreographers. Louie toured Australia and New Zealand with Deni Hines, appearing in shows such as ARIA Awards and The Simply Red Tour. He extended his choreographic skills in television commercials, variety shows, fashion parades and corporate events.
Louie has an impeccable dance teaching background and as a teacher he has taught Jazz, Musical Comedy, Lyrical Jazz, Broadway Jazz throughout Australia. As a vocalist he played the lead vocals for Vicious Rumours and released a debut album with the group entitled, "Body Rock". During the 90's Louie was also the lead singer of "The Bert Newton and Friends" variety show that toured Australia, which saw him realesing his own cover album of his favourite songs. In film, Louie has appeared in "Glass Babies", "Hunting" and "What the moon saw". Louie has also performed at the Victorian Arts Centre in the play "The Hundred Year Ambush" and VSO's "Faust". Upon completing the Sydney season of Miss Saigon, he was invited to perform in New York and Los Angeles for a singing performance.
Most recently, Louie has been a main choreographer for "So You Think You Can Dance" in New Zealand.
Louie George performed in three consecutive successful "Broadway Cabaret Spectacular" shows in Sydney. The latest show was held at the NIDA theatre called "Louie George and Friends" in which he collaborated with Sydney's top choreographers such as Sarah Boulter (choreographer, So You Think You Can Dance?), Leslie Bell (lead perfomer in Chicago), Ramon Doringo (Director, Sydney Dance Company Dance Studios).
A passionate teacher and an advocate of dance as a discipline and art form, his aim is to bring this wonderful gift of dance to students of all levels and ages.